Are you looking for a place to get a car battery repair in New London? Secor Chrysler Jeep Dodge has you covered. Your battery is one of the most important parts of your vehicle engine. It's what powers your engine by sending a huge electrical current to the starter engine to get the engine started. Not only does it start your vehicle, but it also powers all of your electronic accessories like your infotainment system, climate control, and lights. It's obviously very important!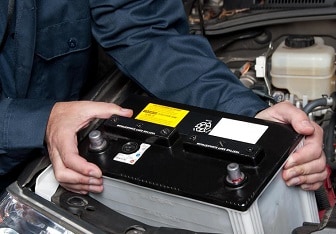 You probably know what it means for your car battery to die, it means your car won't stop. This is one of the most noticeable signs that you need a new battery. There are a number of other symptoms of a dying or malfunctioning car battery including some you might have been previously unaware of.
If your vehicle takes a few turnovers to start, or won't start on the first try but will start fine after that, your battery is probably dying. You should get it replaced immediately or you'll risk getting stranded somewhere. If your lights are dimming, your stereo volume is really low, or your climate control system begins to fail, it's time to get your battery checked out. These are all symptoms of a dying battery. 
Car batteries need to be replaced around every 3-4 years, but sometimes they need to be replaced sooner. This can happen if the battery is faulty, or your alternator isn't working properly. When you bring your vehicle in to Secor Chrysler Jeep Dodge Ram to get your battery repair service, we'll give it a thorough inspection to make sure everything is functioning properly. 
We'll check to make sure the battery terminals look well enough to keep on going until you need a new battery. We'll let you know if there are any stains or corrosion as these will need to be cleaned or replaced. Corrosion and staining can lead to battery malfunction and you'll risk further damage to your engine. 
We'll also use electronic testing equipment to make sure that your battery is putting out the power necessary when you come in for your routine oil change. Without the right amount of power, your engine will be under a lot of stress. This could risk damage to your alternator because it will have to work extra hard to work properly. If your battery dies because it isn't putting out enough power, it could do so while you're driving which could put you in a very dangerous situation. 
At Secor Chrysler Jeep Dodge, we want to make sure your vehicle is in good shape.  That's why we offer a full suite of automotive services, including battery repair. We are located just a stone's throw away from Norwich and Groton at 409 Broad St New London CT. Give us a call at (877) 900-8732 or schedule your service online. Our service staff is here Monday through Friday from 7:00 A.M. to 5:30 P.M., and Saturday from 8:00 A.M. to 1:00 P.M.